TMS Softare, LLC, d/b/a Taylor Made Services

This is the Home page for the FileMaker app for connecting to the SendGrid API for emailing


Visit our Business home page at www.tms.us

Download the latest version from TMS Templates.
This FileMaker solution is an app to integrate it with the SendGrid API, which is a commercial and paid email service. SendGrid is a communication platform for transactional and marketing email, and is owned by Twilio.
SendGrid allows you to send group emails and track statistics about them such as how many were sent, how many were received, how many were opened and how many were clicked through, thereby letting you evaluate the effectiveness of an email campaign. This solution works for for everything from very large marketing emails to small non-profit newsletters. It even works fine for individual emails.
This solutions works with the FileMaker 18 platform, and is an open solution for you to edit and customize to your needs. It is a freeware solution, but we would appreciate credit in the code if you make use of it. And if you need assitance in customization, we are a full service FileMaker development company available for hire.
The API is called by FileMaker through the "Insert from URL" script step and cURL calls. It does require FileMaker 18 since it also makes use of the WHILE function.
Click the image below to watch the YouTube video about this app: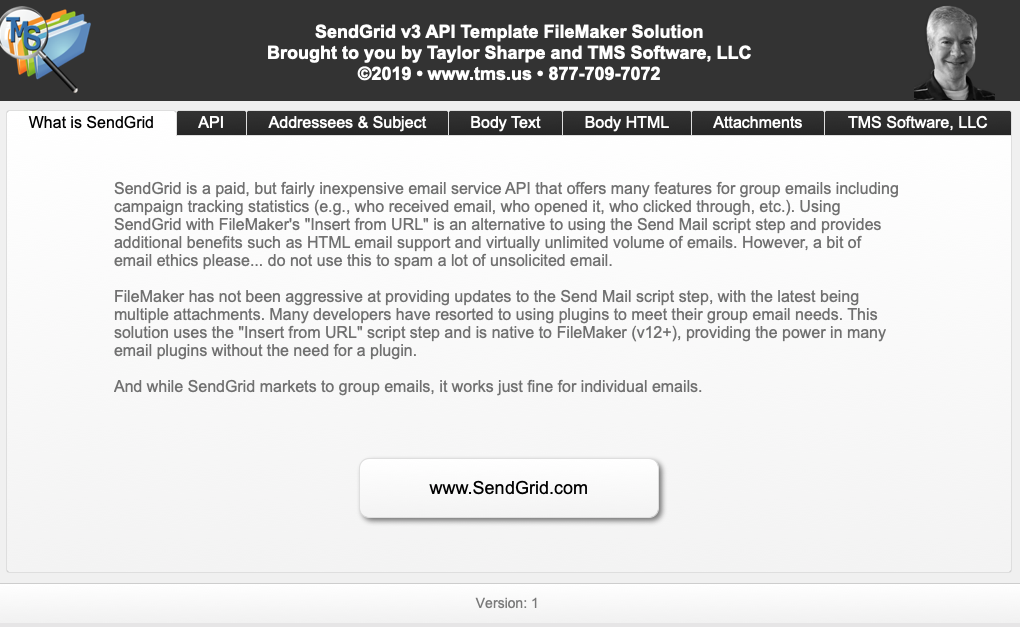 Emails sent with this FileMaker app can be in plain text or HTML formats. We have provided an HTML input field along with a preview for your assistance.
You can have both regular and inline attachments and you can drag or drop attachments into the FileMaker container fields.
We hope this solution can assist you in your business process needs!
The solution was prepared as freeware released to the FileMaker community. TMS Software, LLC retains the rights to the code, but asks that if you make use of it, you give us appropriate credit. And if you need assistance in implementing this solution, our consulting services are available and you can contact us at www.tms.us or 877-709-7072.
---
This software was developed by Taylor Sharpe, FMCD, the President and owner of TMS Software, LLC, a FileMaker Business Alliance member and certified developer. He is also the Co-Chapter Coordinator of the FileMaker Pro Users Group of Dallas. You can contact Mr. Sharpe at Taylor@tms.us