TMS Softare, LLC, d/b/a Taylor Made Services

This is the Home page for the FileMaker Audits/History Logs and Delete logs.
Version 1.0

Visit our Business home page at www.tms.us

Download the latest version from TMS Templates.
Taylor Sharpe with TMS Software, LLC designed a solution to track changes and deletes in a FileMaker solution, thereby giving a full audit trail. This is a tool with the scripts and calculations in it to copy and integrate into your current FileMaker system to add audit functionality. The tracking system is based on the Get(ModifiedFields) function and any field defined to auto enter a modification timestamp. The tracking system utilizes the WHILE function which was introduced in FileMaker 18. However, it will not work for earlier versions of FileMaker. The tracking system puts an Audit History system in each table in the solution and has a separate Deletes table to store deleted records. The solution utilizes JSON formatting to document the changes and deletes. The Delete script is designed only to work on a server and make use of "Perform Script on Server" calls. These calls make use of the free BaseElements plugin from Goya that must be installed on the Server to work. Alternatively, the Monkey Bread Software plugin works too.
This solution was prepared for a presentation at the FileMaker Pro Users Group Dallas Chapter group on June 7, 2019. A video subsequently made using the same materials and explaing many of the details of the app. Click the following image to see the video: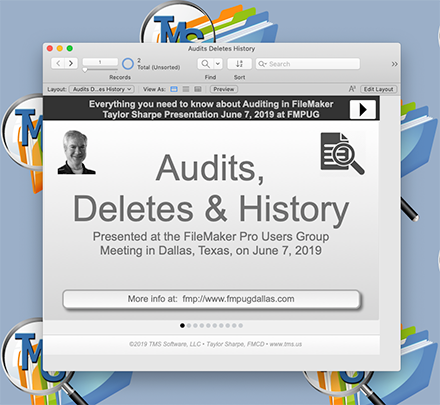 The solution was prepared as freeware released to the FileMaker community. TMS Software, LLC retains the rights to the code, but asks that if you make use of it, you give us appropriate credit. If you need assistance in implementing this solution, our consulting services are available and you can contact us at www.tms.us or 877-709-7072.
---
---
This software was developed by Taylor Sharpe, FMCD, the President and owner of TMS Software, LLC, a FileMaker Business Alliance member and certified developer. He is also the Co-Chapter Coordinator of the FileMaker Pro Users Group of Dallas. You can contact Mr. Sharpe at Taylor@tms.us